REIFF WEBSITE EXCLUSIVE
F4 Scandi with Green Canvas Micarta
$334.00 USD
REIFF EXCLUSIVE
The F4 Scandi Bushcraft Knife borrows the classic F4 Bushcraft Survival Knife blade profile in 5/32" thick CPM 3V blade steel and features a 12.5° per side (25° inclusive), true scandi grind with canvas micarta handle scales in four different color options (black, natural, green and black layered or our website exclusive green). You are currently viewing our green canvas micarta website exclusive variant that you can only get here on reiffknives.com. The flats of the blade are acid stonewashed which contrasts beautifully with the raw satin scandi bevel.

Prized by bushcrafters the world over, the scandi grind originated in Scandinavia and is renowned for its ability to glide through wood, as well as its relative ease of sharpening in the field. The scandi grind is sometimes referred to as a zero grind due to the lack of a secondary sharpening bevel along the edge. It is characterized by a steep angled primary bevel that extends all the way to the edge giving you greater control in the cut while whittling or carving.

The textured green canvas micarta scales provide a softer feel in-hand and a sure grip in wet conditions.

This first production run of the F4 Scandi Bushcraft Knife ships with our standard leather dangler sheath and is offered in right or left hand configurations.




F4 Specifications

Overall Length: 9"
Blade Length: 4"
Cutting Edge: 3.8"
Blade Width: 1.11"
Blade Thickness: 5/32" or .156"
Blade Material: CPM 3V®
Hardness: 58-60 HRC, Cryo Treated
Blade Style: Drop Point
Edge Type: True 25° Scandi
Blade Grind: Flat Grind
Finish: Acid Stonewash Flats, Satin Bevel
Handle Length: 5"
Handle Width: 1.1"
Handle Thickness: .95"
Handle Material: Canvas Micarta
Weight: 7.5 oz
User: Right Hand, Left Hand
Sheath: Brown Leather Bushcraft Sheath
Knife Type: Fixed Blade
Model: F4 Scandi Bushcraft Knife
Country of Origin: USA
Best Use: Bushcraft, Hunting, Survival, Camping

Carry No Cares Warranty™

We stand behind our products. Reiff Knives are heirloom quality tools and should last a lifetime. If your knife is defective or suffers catastrophic failure during use, we will repair or replace it at no cost to you.

Reiff Knives is a family business and when you invest in a Reiff knife, you become part of our family. We take care of our own. That's why we are happy to go above and beyond the norm and replace your knife, at no charge, if it is lost or stolen. All we ask for is proof of a police report.

This warranty is fully transferable and does not expire. No warranty registrations or receipts are necessary to initiate or validate a warranty claim.

If you believe your knife is defective or eligible for warranty replacement, please contact us via email through our contact us page to initiate your claim.

We do not warranty against rust or normal wear and tear.

For information regarding returns or exchanges, please refer to our returns & exchanges policy.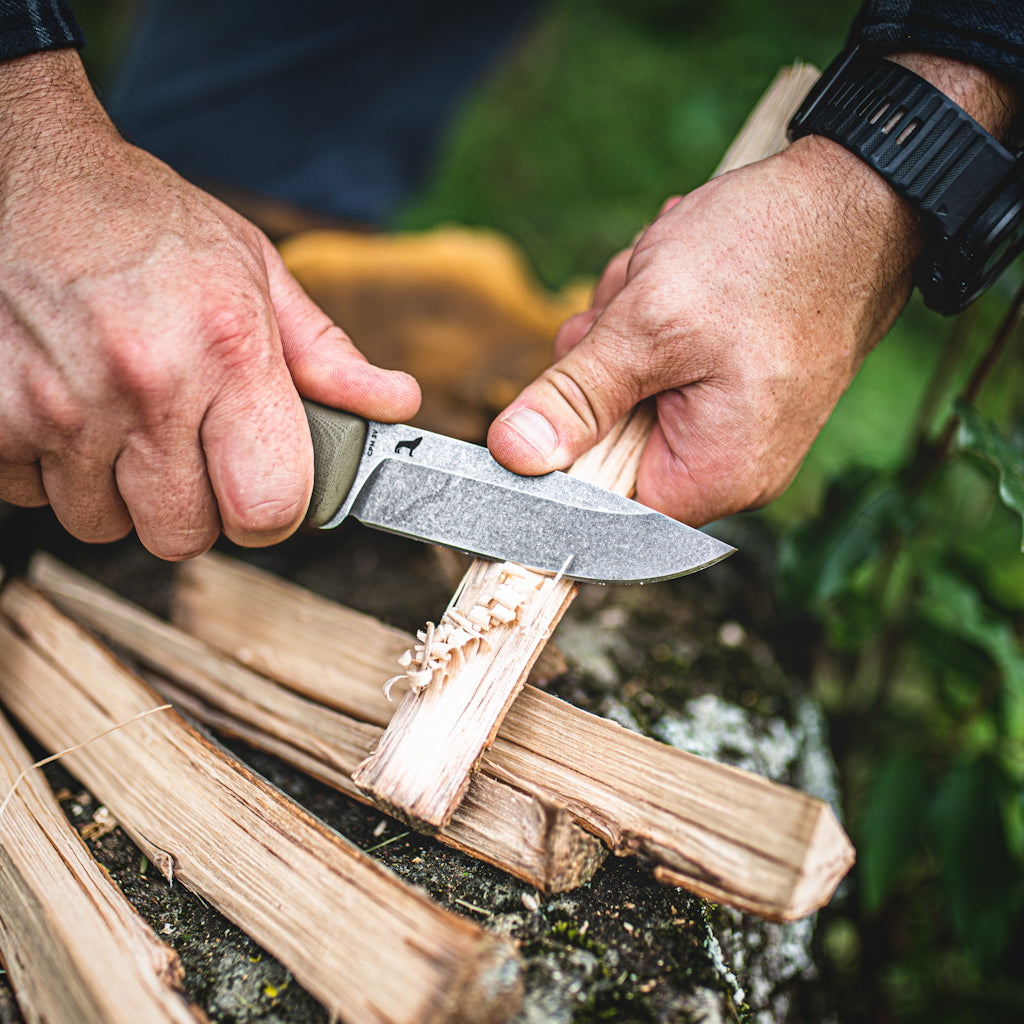 The Blades
Our blades are constructed from CPM 3V® high-impact tool steel, specially formulated to resist breaking and chipping during hard use. A high saber grind with a 20° degrees per side microbevel forms a tough but keen edge, capable of handling the finest cutting tasks. The sturdy full tang is skeletonized to reduce the overall weight, making them an ideal carry companion in the field or around town.
The Handles
Our full-size handles are designed for extended use and will naturally accommodate a broad range of hand sizes. The ergonomic contouring of the scales mimics the shape of your hand, reducing fatigue and giving you more cutting power. A sure grip prevents the knife from slipping in your hand, making it safer in survival situations where an injury could cost you your life.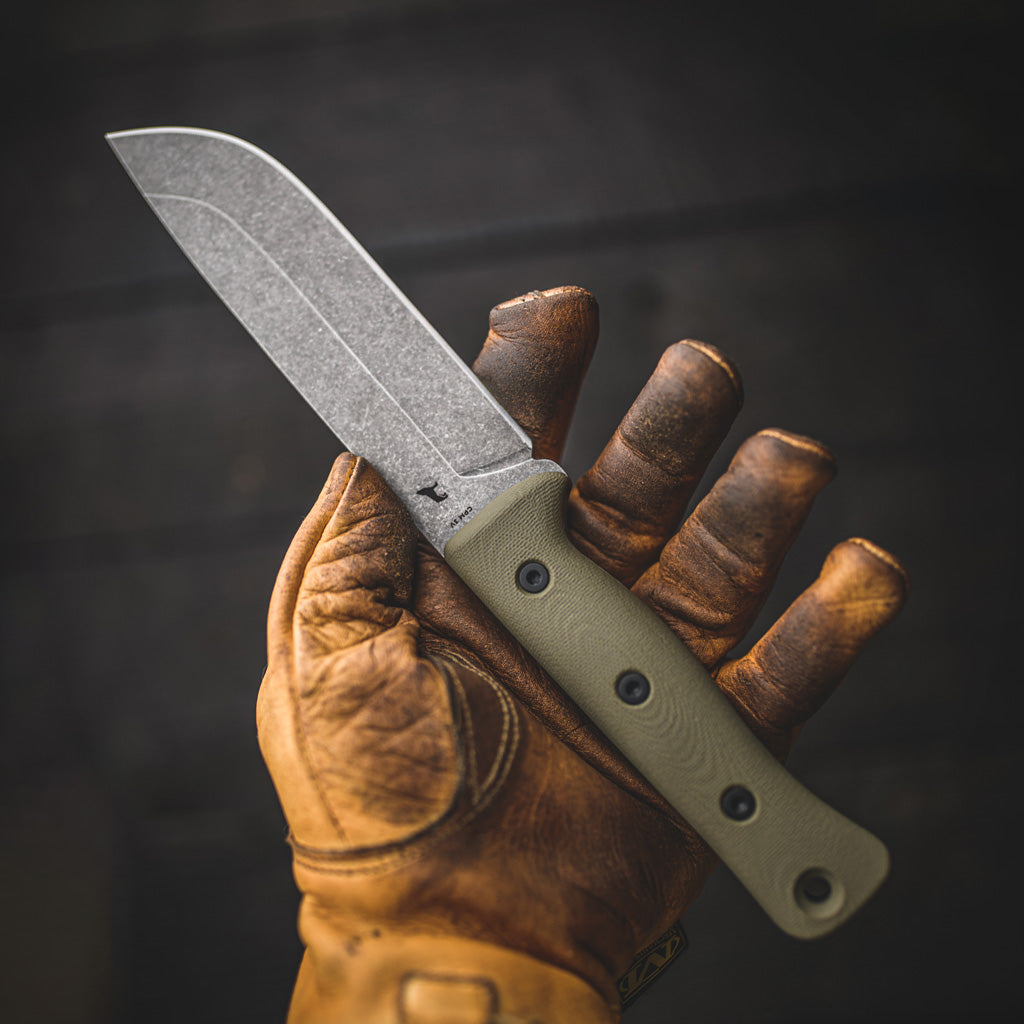 Quality Pledge
Reiff knives are built by experienced American craftsmen using the most modern manufacturing techniques and highest quality materials. We pledge that every product you purchase from us will set a new standard for best-in-class design and performance.
These heirloom quality knives are sure to provide generations of fond memories and reliable use.
We guarantee it.
No Gimmicks

No Afterthoughts

No Compromises